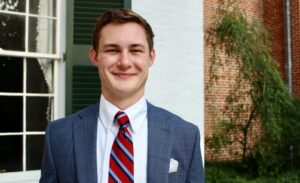 Brother Cole Barnhill of Union, Kentucky, is recipient of the Wayne S. Colvin Change Maker Award.
The honor recognizes one collegiate member from the Association of Fraternal Leadership and Values central delegation for their willingness to challenge the conventional wisdom of fraternity and sorority life to find new solutions to existing challenges, their work to develop better collegiate fraternity and sorority members, and for affecting systemic change and sustainable progress in the undergraduate fraternal experience.
AFLV includes more than 300 college campuses, and Barnhill was selected from that group.
"I am honored and extremely grateful to be recognized as an agent of change at the national level," Barnhill said. "Fraternity life has positively impacted my life and the lives of those around me and to know that I have contributed to the betterment of the national fraternity and sorority community, as well as the community at UM truly leaves me speechless."
Barnhill said that he could not feel more rewarded for the hours of hard work that went into the diversity, equity and inclusion efforts that sparked his nomination for the award.
"It is very fulfilling to see the hard work I put in during my term as IFC president come to fruition through this recognition," he said.
Barnhill's growth as a leader on campus the past two years has been remarkable, said Arthur E. Doctor, director of the Office of Fraternity and Sorority Life.
"To be recognized by the Association of Fraternal Leadership and Values for his efforts during his IFC presidency is so fitting because Cole never sought out the limelight for his work," Doctor said. "He simply kept his head down and challenged his peers to be better for themselves, their chapters and, most of all, the fraternity and sorority community.
"Cole receiving this award serves as confirmation that fraternity and sorority life is truly the training ground for leadership."
Barnhill attributed the recognition to his efforts to challenge the fraternity community's members to be leaders of character focused on upholding the values of their fraternal organizations.
"I have a strong passion for challenging existing beliefs of fraternity and sorority members as it pertains to diversity, equity and inclusion," he said. "Much of the work that I did centered around building relationships to remove systemic barriers between fraternal organizations and underrepresented groups while also making structural changes to the IFC code and constitution so that DE&I efforts will continue to be a priority well in to the future."
Congratulations Cole!